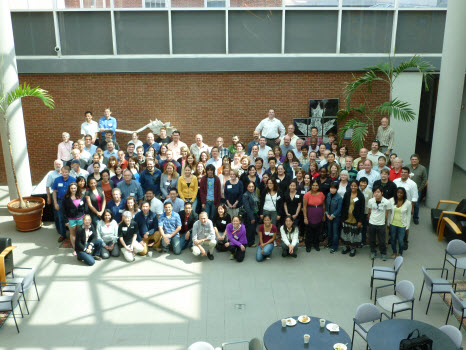 Verity Software House & Cytometry Educational Association are pleased to announce the next Annual Course in Cytometry. This course will provide you with both solid fundamentals and state-of-the-art information on cutting-edge topics in cytometry. Nationally recognized instructors organize hands-on laboratories and present related lectures.
We hold the course on the beautiful Bowdoin College campus in Brunswick, Maine, with wide green courtyards and ivy-covered buildings. You'll receive 15 hours of lectures and 17+ hours of hands-on laboratories. All the instructors love to teach and their enthusiasm about this technology is definitely infectious.
In the laboratories and lectures you'll learn about pertinent topics in the art and science of flow cytometry. You will rank your interest for all the laboratories that we will be offering, and we'll construct a tailored schedule for you for the laboratory sessions.
Add to all this activity a special guest lecturer, a traditional Maine lobster bake, and some good old Yankee entertainment, and you're close to describing the course.
Whether you are a beginner or just need a tune up, come visit us in Maine. We guarantee you will be immersed in this wonderful technology for a week and will be full of new ideas when you return.
This continuing medical laboratory education activity is recognized by the American Society for Clinical Pathology for 35.5 CMLE credits. ASCP CMLE credits are acceptable for the ASCP Board of Registry Certification Maintenance Program. It is also approved by SCYM for 35.5 credits.
Click here for contact information or click here to register now.
---